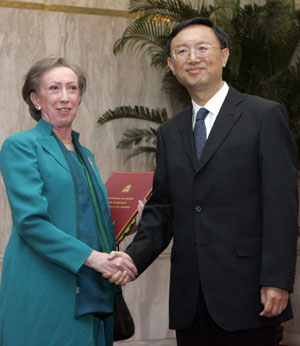 Zimbabwe, Sudan and Burma, three of the world's most oppressive regimes, all benefit from Chinese aid and trade. For instance, China sells the Sudanese government military equipment and purchases two-thirds of Sudan's oil exports. Given the country's economic interests, it is perhaps unsurprising that China should continue to use its veto on the United Nations Security Council to block efforts to send peacekeepers to Darfur.

However, even I am astonished by the support expressed by our own Foreign Secretary, Margaret Beckett, for China's role in financing the Sudanese genocide: "I noticed there have been some criticism of China, but actually China has played a really quite positive role, particularly in the negotiation of the Darfur peace agreement."

One would have hoped that the Foreign Secretary, who is in the middle of a six-day visit to China, would be able to exert some pressure on her Chinese counterpart that it would be in China's interests to adopt a more principled and ethical approach to its foreign affairs. However, Mrs Beckett is clearly even less likely to achieve any results in this area than will Wednesday's call by the United States Congress for China to use its economic leverage with Sudan to stop the violence.

The American resolution noted that the spirit of the Olympics is "incompatible with any actions supporting acts of genocide," but a defiant Beijing is so far rejecting attempts to use the conflict to "politicise the Olympic Games."